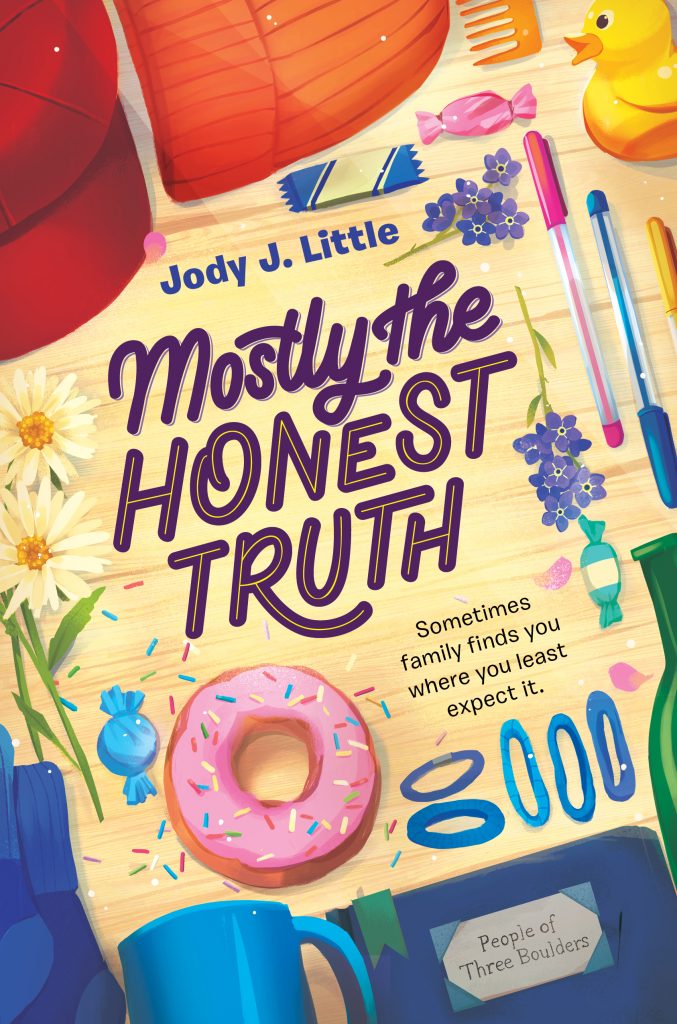 A pitch-perfect story exploring the many meanings of family, Jody J. Little's tough yet tender debut is perfect for fans of Leslie Connor and Katherine Paterson.
After Pop is sent back to rehab, Jane Pengilly arrives at her newest foster home determined to stick to the straight and narrow and get back to her beloved dad as soon as she can. It's not the first time they've been apart, but Jane's determined it will be the last.
Twelve days out in the boonies of Three Boulders makes Jane miss Pop more than ever. But as the days go by, she realizes that family is more than who you're related to—and that a home can be found in the unlikeliest of places.
Mostly the Honest Truth sparkles with a fully realized supporting cast, a safe and supporting setting, and a writer whose ability to imbue her stories with love and hope marks her an author to watch.
Indies Introduce (Winter/Spring 2019)
Indie Kids' Next (Spring 2019)
ABC Best Books for Young Readers
Selected as an Amazon Best Books of the Month for March 2019
2020 Oregon Book Award Finalist for Children's Literature
A Mighty Girl's 2019 Books of the Year selection
Available now wherever books are sold, including the following retailers:
Indiebound • Barnes & Noble • Book Depository • Amazon
Reviews for Mostly the Honest Truth

"Jane Pengilly is prickly, persistent—and an utter delight! She and the other inhabitants for Three Boulders will take your heart apart and put it back together again. A superb debut."
– Leslie Connor, National Book Award Finalist author of The Truth as Told by Mason Buttle

"To get to Three Boulders, turn right at the juncture of sadness and courage, keep straight to the edge of wisdom, and take the fork to understanding. You won't want to leave that magical place."
– Susan Patron, Newbery Medal-winning author of The Higher Power of Lucky

"As a touching story that's not a weeper, this makes for a great dialogic read-aloud, particularly useful for helping younger students up their reading game as they make predictions and inferences and consider the implications of good and bad choices."
– Bulletin for Center of Children's Books (BCCB)

"Celebrating collective along with individual action, this upbeat tale portrays a hero's journey that takes a community to complete."
– Kirkus Reviews

"When Jane is sent to Three Boulders, she plans on being there for 12 days and getting out, but she doesn't realize how the community there will provide her with something she didn't know she was missing. A touching and realistic look at how the disease of alcoholism can affect a family, but also how family can be found in the most unexpected places."
– Katherine Warde, Micawber's Bookstore (St. Paul, MN)

"Jane finds herself in foster care while her father spends another stint in rehab and she's determined not to make friends with anyone because this is the last time they'll be apart. As days go by and she settles into Three Boulders, Jane realizes that family is more than your relatives – it's who stands by you when needed. Wonderful characters and authentic voices make this story one for all to share."
– Cathy Berner, Blue Willow Bookshop (Houston, TX)

"Fans of Danielle Davis' Zinnia and the Bees will fall in love with Jody Little's tale about a girl named Jane and her quest for home. After a nighttime accident, Jane's father is ordered a mandatory 12 days of rehab, during which Officer D. takes Jane to live temporarily in Three Boulders, a small community and Officer D's home. It is there that Jane discovers more than she ever thought possible, including the ability to tell the 'honest truth.' In a setting that fills a bit like summer camp, the author explores topics of foster care, family addiction, friendship, and the feeling of finding your people."
– Jen Pino, Vroman's Bookstore (Pasadena, CA)

"Jane Girl and her Pop are mostly always just enough for each other, except when Pop slides into sadness and drinking and has to go into rehab and get fixed up. An honest and accessible novel about alcoholism for the older elementary reader, told richly and compellingly."
– Christy McDanold, Secret Garden Bookshop (Seattle, WA)

Blog Posts and Interviews

Guest Author post on Harper Stacks

Q & A on Booksellers This Week with bookseller, Christy McDanold, co-owner, at Secret Garden Bookstore in Seattle, WA